When sudden cardiac arrest strikes, time is of the essence. A victim's best chance for survival is a rescuer who administers high-quality CPR and uses an automated external defibrillator (AED) before emergency services arrive.
But can you safely perform CPR during COVID-19? The answer is YES. You can keep yourself safe with personal protective equipment (PPE) and help save a life by performing hands-only CPR in the critical moments after a victim collapses. Call for help, call for the AED, and start hands-only CPR as advised by the AHA and ERC resuscitation Guidelines.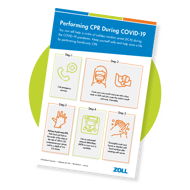 Make sure everyone in your organisation knows they can help when every minute counts.
Download the "Hands-only CPR During COVID-19" poster now.