Every second counts.
Make sure that everyone in your care home is prepared to help save lives so your residents, visitors and employees feel protected.
You don't need to be a trained medical professional to help save a life. As a layperson, recognizing sudden cardiac arrest and knowing how to respond can make the difference between life and death.
When sudden cardiac arrest strikes, time is of the essence. A victim's best chance of survival is a rescuer who administers high-quality CPR and uses an automated external defibrillator (AED) before emergency services arrive.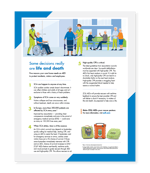 Learn more in the free flyer, "Five reasons your care home needs an AED to protect residents, visitors and employees."